Focus on 2D Vector Graphics Designer is an easy-to-use web based 2D design package that will allow students to design vector graphics for print or manufacture. DXF files can be exported for use with software programs such as LaserCut, LightBurn,
Techsoft 2D and RDworks. This title is available as part of the Focus D&T Online Resource Pack. See below for sample screen and a list of features and tools.
● Circles, Ellipses, Polygons ● Draw connected lines with fills ● Lines, arrows and dimensioning ● Stars, clouds and callouts ● Text input with Google fonts ● Gradient Fills ● Convert text-to-path ● Fit text-to-path ● Draw Bezier curves and delete points ● Multiple undo and redo ● Delete a line from a closed shape or part of a line ● Freehand drawing ● Duplicate and array selected shapes ● Copy, rotate and paste shapes about a point
● Combine shapes with Boolean operations ● Arcs, quadrants, semi-circles and segments ● Flood fill, line colour and thickness ● Image outline tracer to vector
Options For Saving Files:
● Save to 'My Device' (Windows, Mac, Chromebook)
● Save to Google Drive
● Save to User Account on the Focus Server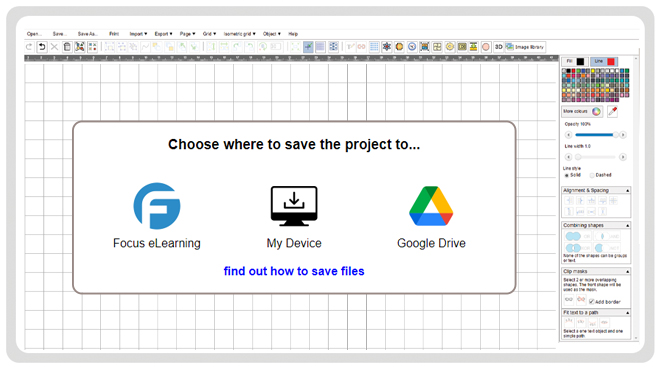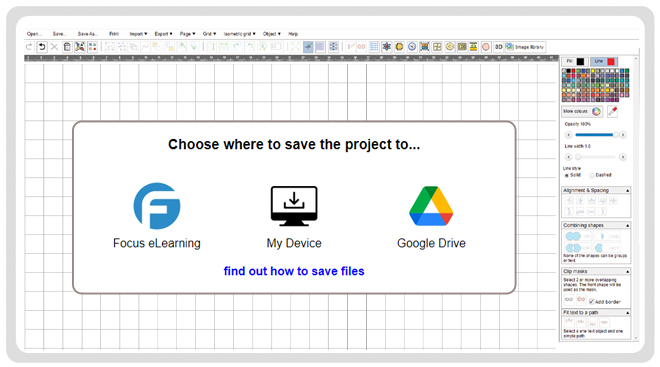 Options For Exporting Files
● Export to DXF. Focus DXF files are compatible with:
Techsoft 2D Design
LaserCut
LightBurn
RD Works
● Export to SVG
● Export to PNG
Exported files can be saved to user device or emailed direct from Focus 2D Designer App.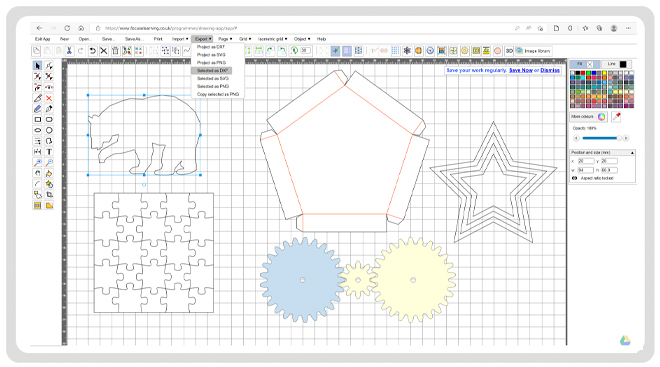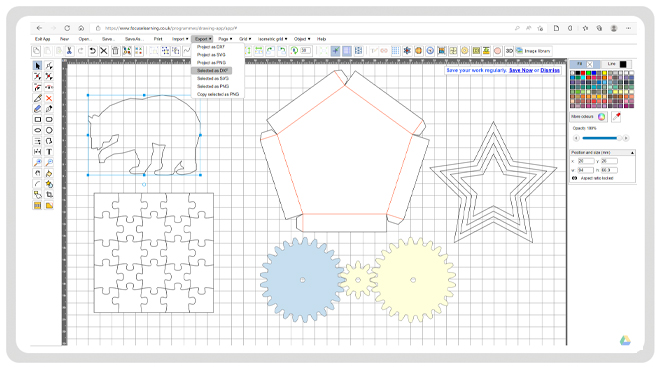 ● An ever growing set of easy-to-follow video tutorials are available on the Focus YouTube Channel and are also listed in the Focus DT Video Library App, which is part of the Focus DT Resource Pack.
● There's also a comprehensive Help Manual which can be accessed via the Drawing App main menu.


Apply for a 14 day no obligation free trial.
Order a subscription for your school today!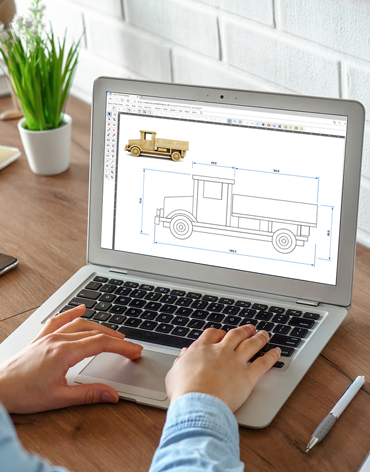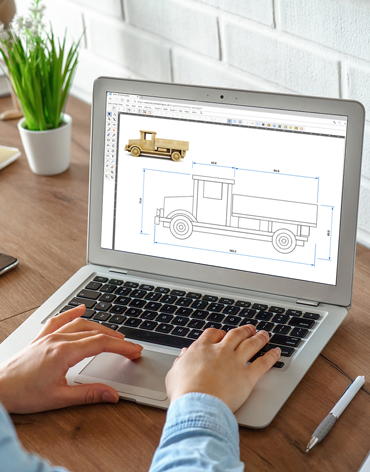 Part of the Focus DT Resource Pack
This resource and every other Focus D&T title combine to form the Focus D&T Resource Pack. A single very affordable school subscription provides unlimited access to all titles.
Cross Platform Compatibility
DXF files can be exported from the Focus 2D App and then imported into software programs such as Techsoft 2D Design, LaserCut, Lightburn and RDworks for manufacture .
Modern Interface and Easy-to-Use
We've worked hard to ensure that the Focus 2D Designer is as intuitive as possible and our YouTube channel has an ever growing list of easy to follow video tutorials.
For just £99.95 ex VAT per annum, every student and teacher in your school can have access to ALL Focus D&T titles both in school and at home.
Focus Resources Device Compatibility
Teachers and students access Focus online resource packs direct from our web server. This means our resources are web browser based and compatible with Windows, Mac, Chromebooks, iPad and Android tablets.