Focus on Food: From Cow to Consumer is a unique interactive resource examining the business activities of Roskilly's Cornish Organic Farm. This title is available as part of the Focus D&T Online Resource Pack. See below for sample screen and a list of topics.
Focus on Food:
From Cow to Consumer
An in-depth study of food production at Roskilly's farm in Cornwall. Each stage of production is covered for foods including milk, ice cream, fudge, strawberry jam and tomato chutney, with reference made to health and safety, quality control, and consumer protection.


● Milk Production
● Ice cream Making
● Clotted Cream Fudge
● Strawberry Jam
● Tomato Chutney

● Health and Safety
● Consumer Proteccion
● Sales and Distribution
● Marketing
● Company Administration
● Food Technology Quizzes

People start businesses for a variety of reasons. Some have bright ideas for new products or services, others dream of turning a hobby into a business or are simply fed up working for someone else and want to be their own boss.
● Starting and Organising a Business
● Types of Business
● Marketing and Customers
● People in Business
● Production
● Finance and Accounting
● Business Environment
● Business Studies quizzes



Apply for a 14 day no obligation free trial.
Order a subscription for your school today!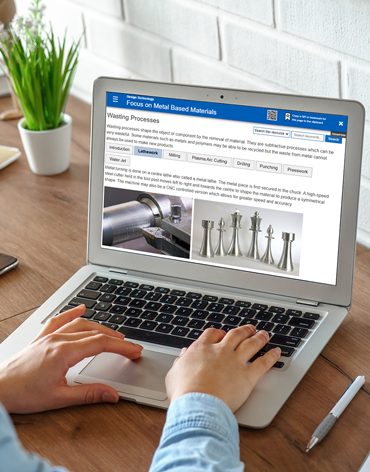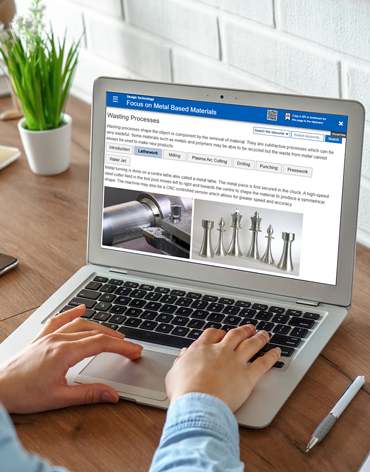 Part of the Focus D&T Resource Pack
This resource and every other Focus D&T title combine to form the Focus D&T Resource Pack. A single very affordable school subscription provides unlimited access to all titles.
A combination of 2D and 3D animations, video clips, photos, text and tests creates a unique and engaging 'Focus Style' of presentation. All created by experienced UK teachers.
Whether you're looking for resources to enhance teacher presentations or something for individual study, the Focus D&T Resource Pack is designed to fit the bill.
For just £99.95 ex VAT per annum, every student and teacher in your school can have access to ALL Focus D&T titles both in school and at home.
Focus Resources Device Compatibility
Teachers and students access Focus online resource packs direct from our web server. This means our resources are web browser based and compatible with Windows, Mac, Chromebooks, iPad and Android tablets.